FIFA 21: Philippe Coutinho New Flashback TOTS SBC
2021-05-11 07:35
Philippe Coutinho got a new FIFA 21 card on Saturday, which is a flashback card to celebrate his inclusion in the FIFA Ultimate Team 20 Team of the Season so far . The new card is an offensive power. This is the way to unlock it for yourself through Squad Building Challenges.
His new flashback card is very beautiful, you can use 92 OVR-with 97 dribble and 5-star skill moves, if you have any other Barcelona or Brazil players can play with him, he will be a monster. Before entering the requirements, let's take a look at the complete statistics.

Flashback SBC Coutinho also gained 98 acceleration, 98 long shots, 99 curves and 96 FK accuracy, as well as 90 and 80 attributes for several other attributes. The powerful 92 OVR version for him is definitely a strong aspect of FIFA 21 Ultimate Team.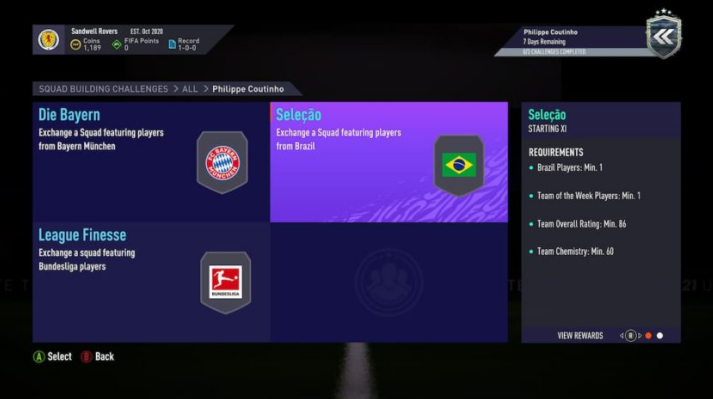 To unlock the card, you need to complete the following SBCs:
Segment 1: Die Bayern
● Number of players from FC Bayern: Minimum 1
● IF Players: Minimum 1
● Squad Rating: Minimum 84
● Team Chemistry: Minimum 75
● Number of players in the Squad: 11
● Reward: 1 Small Prime Gold Players Pack
Segment 2: League Finesse
● Number of players from Bundesliga: Minimum 1
● Squad Rating: Minimum 87
● Team Chemistry: Minimum 50
● Number of players in the Squad: 11
● Reward: 1 Rare Mixed Players Pack
Jimenez: They are really good a responding to any question quickly and getting the job done asap, honestly will shop again.

The customer has bought:

FUT 22 Coins

2022/08/09

Austin: Love this site, thought it was a scam at first but they've come through every time. Their support is also amazing as well, definitely will be back!

The customer has bought:

FUT 22 Coins

2022/

08/09

Napat: Just got my FIFA coins and got some of the best players. My team will definitely be getting more soon.

The customer has bought:

FUT 22 Coins

2022

/

08/09




Preciado: Excellent service as described. Do not forget to ensure your market is unlocked.

The customer has bought:

FUT 22 Coins

2022

/

08/09




Luis: Trust me, this is 100% real. I just bought 3 players and I just got them 2 minutes ago!

The customer has bought:

FUT

Players

2022

/

08/10




Zxgzig: Amazing the best way to get your FIFA coins/players. The sevice is amazing too.

The customer has bought:

FUT Players

2022/

08/10




McCone: Great experience! Now used multiple times, and the players delivered very quickly without any problems every time. Customer service is great as well.

The customer has bought:

FUT Players

2022/

08/10




Posadas: I've been buying fifa players on this website for a while now, and they are really cheap compared with other fifa coins sites. Also, their delivery is really quick.

The customer has bought:

FUT Players

2022/

08/10




Tamás: The supports are very kind and after we talked about everything, my order was completed very soon.

The customer has bought:

FUT

Squad

2022/

08/11




Antonio: I am completely satisfied with this SQUAD because it's trustworthy and incredibly fast. It is safe to say that I will use Buyfifacoins again.

The customer has bought:

FUT Squad

2022/

08/11




Saul: Very good service. Quick delivery for the team and flawless experience.

The customer has bought:

FUT Squad

2022/

08/11




Rambla: I am very satisfied with their product which allows me to get and build a great team.

The customer has bought:

FUT Squad

2022/

08/11